Chiny walczą z inflacją (China's consumer price index rises a less-than-forecast 4.9% amid a reweighting to the index, but wholesale prices rise faster than expected), Bank of Japan ze stopami procentowymi, a z USA szykuje się jakaś horrendalna ilość danych makro. Czy to pomoże przegonić z rynku marazm?
W mojej ocenie sytuacja techniczna praktycznie bez zmian, nasz rynek nie wierzy w kontynuację trendu w USA konsolidując się pod szczytami całego obecnego trendu. Pojawiać kolejne śmiałe spekulacje o sprytnej dystrybucji u nas i na innych mniej płynnych rynkach (EM).
Wybicie FW20 ponad poziom 2780 uprawdopodobniłoby próbę zmierzenia się z poziomem ~2800 a wyżej z rekordem trendu. Ważnym oporem po drodze 2755. Bliżej nam jednak do wsparć 2700-03 i niżej.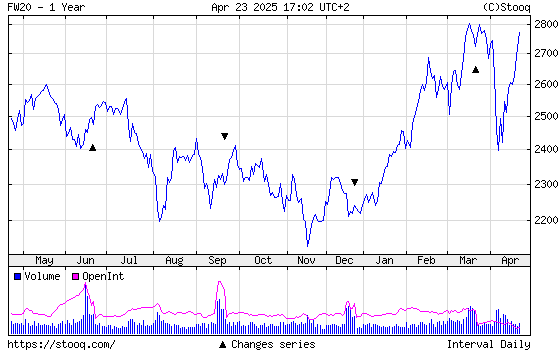 W ankiecie w czołówce tradycyjnie mocni zawodnicy, bez zmian:
1 ShootingStar 11
2 oski73 9
3 RySZARd 8
Gratulacje

15.02.2011 - DANE MAKROEKONOMICZNE
# JAPONIA - Decyzja BoJ ws. stóp procentowych (Oczek. 0.1% Poprz. 0.1%) za luty
# CHINY - (3.00) Inflacja CPI (Oczek. 5.3% r/r Poprz. 4.6% r/r) za styczeń
# CHINY - (3.00) Inflacja PPI (Oczek. 6.2% r/r Poprz. 5.9% r/r) za styczeń
# CHINY - (3.00) Produkcja przemysłowa (Oczek. 13.6% r/r Poprz. 13.5% r/r) za styczeń
# CHINY - (3.00) Sprzedaż detaliczna (Oczek. 19% r/r Poprz. 19.1% r/r) za styczeń
# JAPONIA - (5.30) Produkcja przemysłowa (Oczek. 3.1% m/m Poprz. 1% m/m) za grudzień
# FRANCJA - (7.30) Dynamika PKB (Oczek. 0.6% k/k, Poprz. 0.3% k/k) - dane wstępne za IV kwartał
# NIEMCY - (8.00) Dynamika PKB (Oczek. 0.5% k/k Poprz. 0.7% k/k) - dane wstępne za IV kwartał
# EUROLAND - (09.00) Spotkanie ECOFIN (ministrów finansów państw UE)
# HISZPANIA - (10.30) Aukcja 12 i 18-miesięcznych bonów
# UK - (10.30) Inflacja CPI (Oczek. 0.1% m/m i 4.0% r/r, Poprz. 1% m/m 3.7% r/r) za styczeń
# EUROLAND - (11.00) Dynamika PKB (Oczek. 0.4% k/k i 2.1% r/r, Poprz. 0.3% k/k 1.9% r/r) za IV kwartał
# NIEMCY - (11.00) Indeks instytutu ZEW (Oczek. 20.0 pkt., Poprz. 15.4 pkt.) za luty
# EUROLAND - (11.00) Bilans handlu zagranicznego (Oczek. 1.0 mld EUR, Poprz. -0.4 mld EUR) za grudzień
# GRECJA - (11.00) PKB w IV kwartale
# USA - (14.30) Sprzedaż detaliczna (Oczek. 0.5% m/m, Poprz. 0.6% m/m) za styczeń
# USA - (14.30) Sprzedaż bez samochodów (Oczek. 0.5% m/m, Poprz. 0.5% m/m) za styczeń
# USA - (14.30) Indeks NY Empire State (Oczek. 15.00 pkt., Poprz. 11.92 pkt.) za luty
# USA - (14.30) Ceny eksportu (Oczek. 0.7% m/m, Poprz. 0.7% m/m) za styczeń
# USA - (14.30) Ceny eksportu bez towarów rolniczych (Poprz. 0.6% m/m) za styczeń
# USA - (14.30) Ceny importu (Oczek. 0.8% m/m, Poprz. 1.1% m/m) za styczeń
# USA - (14.30) Ceny importu bez ropy (Poprz. 0.4% m/m) za styczeń
# USA - (15.00) Napływ kapitałów długoterminowych (Poprz. 85.1 mld USD) za grudzień
# USA - (16.00) Indeks rynku nieruchomości - NAHB (Oczek. 17 pkt., Poprz. 16 pkt.) za luty
# USA - (16.00) Zapasy niesprzedanych towarów (Oczek. 0.7% m/m, Poprz. 0.2% m/m) za